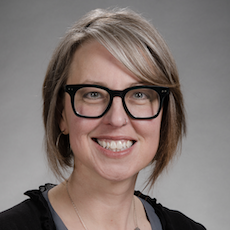 Heather Feldner
Director
---
Heather Feldner is an Assistant Professor and physical therapist within the Department of Rehabilitation Medicine. She is a board-certified pediatric clinical specialist and also serves as core faculty in the UW Disability Studies Program.
Education:
BS in Human Biology, Marquette University, Milwaukee, WI
MPT in Physical Therapy, Marquette University, Milwaukee, WI
PhD in Disability Studies, University of Illinois at Chicago, Chicago, IL
Post-Doctoral Research Fellowship in Mechanical Engineering, University of Washington, Seattle, WA
Research Interests:
Dr. Feldner is the director of the IMPACT Collaboratory within the Department of Rehabilitation Medicine. IMPACT (Igniting Mobility, Play, and Access for Children with Technology) is a multidisciplinary lab space with a mission to foster sustainable community partnerships and empower children and families as experts in their own lives and to engage as co-researchers in all projects. Her lab explores the intersections of rehabilitation, engineering, design, and social justice using a disability studies lens. Dr. Feldner partners with children and families across our community and region to create meaningful research questions, studies, and technology designs that bridge disciplines and contribute important insights into issues such as accessibility, mobility and play, inclusive design, participation and health, and low to high technology solutions. Dr. Feldner is also exploring how implementation science can impact the translation of rehabilitation and technology practices and improve user-centered health and participation outcomes.
Teaching Philosophy and Interests:
Dr. Feldner's teaching philosophy is rooted in the belief that excellence in multidisciplinary research and clinical translation must be conveyed to students through excellence in teaching. A lecture or course becomes successful when students actively explore and critically evaluate not only scientific evidence, but also their own biases and situated knowledge, especially considering multiple perspectives of health and disability.
Heather enjoys teaching principles of disability studies, accessibility and inclusive design, assistive technology, pediatric physical therapy, psychosocial issues in rehabilitation practice, and qualitative and participatory research methods. She currently teaches in courses within the Doctor of Physical Therapy curriculum (REHAB 502, REHAB 517, REHAB 554, REHAB 801) and the College of Engineering (ME 520, CSE490 D, ENGR 297).
Clinical Interests:
Dr. Feldner's clinical interests include the provision of evidence-based, family-centered pediatric physical therapy services, seating and mobility technology provision, and environmental accessibility and modification.
Expertise:
Pediatric Physical Therapy, Seating and Mobility Technology, DIY Assistive Technology, Qualitative and Participatory Research Methods